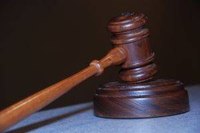 If you owe money to another person or a company, they may file a lawsuit against you. The judge hears the case and if he agrees with the creditor, he awards them a judgment against you. If you don't have the cash to pay the judgment, the creditor may legally garnish your wages, bank account or other assets. However, federal law controls the amount of money the creditor may take from your paycheck and state laws further protect your rights.
Significance
The judgment issued by the court allows the plaintiff the legal means to recover the money due them. The judge determines the amount adds filing fees and court costs. After the creditor receives the judgment, he must wait for a period, specified by your state, before obtaining a writ of garnishment. Waiting periods vary by state. (See Resources)
Features
When the plaintiff receives the writ of garnishment from the Court, an officer of the Court will present it to your employer as a legal demand for your employer to withhold a portion of your wages. Individual states allow wage garnishment as long as it does not exceed 25-percent of your disposable income. Disposable income is usually your take-home pay. The only allowable deductions are the ones your employer takes from your paycheck by law, such as Social Security, federal and state taxes and unemployment insurance. Previous garnishments take precedence over new ones.
Considerations
Wage garnishment laws differ from state to state. Some states do not allow a credit card company to garnish wages but the company might be able to garnish your bank account or money you receive from the sale of an item. Each time you change employers, the garnisher must obtain a new writ of garnishment from the Court. If you are self-employed, it is difficult for a creditor to claim your income but if they have advance notice that you are selling property, they may obtain a non-periodic writ of garnishment, good for that transaction only.
Misconceptions
An employer may not fire an employee over a garnishment of wages. Check with the court office that handles garnishments in your county to find additional terms. Employers who willfully fire an employee may face fines and potential imprisonment.
Potential
Debtors often avoid garnishment by changing jobs frequently and hiding their assets. Every state has a Statute of Limitations (SoL) that restricts them from filing a lawsuit against a debtor after a specified length of time. In addition, another SoL determines how long a writ of garnishment is in effect and how often it is renewable. (See Resources)
Warning
Know the laws in your State and know your rights. You have the right to object to any garnishment but you must file an objection quickly with the court. In some states, you must respond in writing to a writ of garnishment and file your income with the Court. Should you not adhere strictly to the terms of the garnishment, you may be held in contempt of court and subject to further fines and court costs.