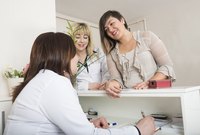 Health insurance typically doesn't pay all of your health care costs. A copay, short for "copayment," is a fixed amount you must pay for medical services or products that come under your insurance. Copays help keep health care costs down because they discourage people from using services they don't need. Requiring a copay is only one of the ways insurance companies get you to share the costs of your care.
Copayment Basics
If a visit to a doctor's office costs $150, your insurance company may pay only $120. The remaining $30 is your responsibility as a copay. Copays may also apply to other medical costs, such as devices and prescription medications. For example, your insurer may require you to pay a fixed amount, such as $15, for all medications in a particular group of frequently prescribed drugs. Whether the actual cost is $45 or $75 or more, your copay is still $15. Your insurance pays the rest.
Other Requirements
Some insurance plans limit the number of times you can get a medical service or product at a certain copay. For example, your insurer may allow a fixed number of office visits per year at $30 each, and after that you may have to pay more. Many plans also charge more or won't pay at all if you use a health care provider outside of their network. For prescriptions, the lowest copay amount may only apply to a limited class of drugs, such as generics. You may have a larger copayment for brand-name drugs, or your plan may not cover some drugs at all.
Premiums and Deductibles
A premium is the amount you must pay at a regular interval to keep health insurance coverage. In addition, the deductible is what you must pay before coverage begins. For example, you could have a $400 premium every month with a $1,500 deductible. It means you must pay 100 percent of the first $1,500 before your insurance kicks in. Some plans cover some costs, such as preventive care or prescriptions, without a deductible.
Putting It Together
Copays and other cost sharing apply only to covered services and products, so you'll have to pay 100 percent on anything beyond the scope of your plan. Health plans vary, but if there's a copay for a particular service, you usually don't have to meet a deductible. Furthermore, the amount of your copay usually counts toward the yearly deductible. Many plans limit the out-of-pocket maximum, the total amount you may be required to pay each year. Depending on your particular plan, copayments for some services typically count toward the yearly maximum.