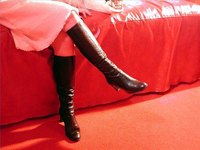 You want to slip on a brand new pair of boots, but what do you do if your calf is larger then the average super-model? You can purchase the perfect boot by not only getting the correct shoe size, but by buying a boot that is available in an extra-wide calf.
Benefits
You will get the look of stylish high-calf boots even if you do not have thin calves. Many brands offer several styles of their signature boots in the wide-calf variety.
If you wear a size eight shoe, you would take the wide-calf size if your calf circumference is 16 inches. If you wear a size 12 shoe, you wear a wide calf if your calf circumference is 18 1/2 inches. Some companies even offer extra wide-calf sizes. You can wear a size six shoe and have a calf circumference of up to 18 inches and wear an extra wide-calf boot. If you wear a size 12, you can have a calf circumference of 20 1/2 inches and still fit in the boot.
Features
The additional room that wide and extra-wide calves allow even the curvier women to fit in sexy calf-length boots. Many boots in the shoe store are made for women who are size 12 and under. They are not made for women who have thicker calves from working out or a little extra weight. Extra wide calves allow every women to fit in high-calf boots.
Warning
Try on the boots if possible before buying them to make sure that you can zip them up. There are several styles that are available in wide-calf sizes on the Internet only. Accurately measure your calf to ensure this shoe will fit. Only purchase wide-calf boots from Internet sites with acceptable return policies.
Potential
Sometimes our calves are too muscular for even the widest calf boots. These boots can usually be stretched in the calf at least another inch by an expert shoemaker. If their is an elastic gore at the inner side of the boot, it can be removed and a larger elastic gore can be inserted.
Misconceptions
Women's boots are made for thinner than average calves. Having to go to a wide or extra wide-calf boot does not mean you are overweight, it just means that you need a little extra room because your calves are more muscular than the shoe model they were created on. Women also feel that they need to buy a larger shoe size to get the calf to fit. Wearing shoes that are too big can lead to foot problems. Buy the correct size shoe with an extra-wide calf.