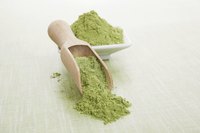 Although its history of use dates back to the Aztec civilization, spirulina gained fame more recently as a nutritional supplement for astronauts in the 1980s and 1990s. A type of blue-green algae, spirulina boasts a broad spectrum of micronutrients and may offer health perks for those who add it to their menus. Despite spirulina's potential benefits, the University of Maryland Medical Center notes it can also face contamination from toxins and heavy metals, making it important to buy from manufacturers that test the safety of their products.
Relief From Allergy Symptoms
Along with multiple animal and test tube studies, research on humans suggests that spirulina can provide relief from allergy symptoms -- particularly the stuffy nose, nasal discharge, itching and sneezing known as allergic rhinitis. A trial published in the October 2008 issue of the "European Archives of Oto-Rhino-Laryngology" found that compared to a placebo group, rhinitis patients supplementing with spirulina saw a much-welcomed improvement in their symptoms. Although more research is needed to clarify the exact mechanism, the benefit could be due to spirulina's inhibiting effect on interleukin-4, a protein involved in allergic inflammation.

Blood Lipid Improvement
According to a review published in the 2011 issue of "Evidence-Based Complementary and Alternative Medicine," spirulina may be a boon for cardiovascular health. In heart disease patients, supplementing with 2 or 4 grams of spirulina per day for three months spurred significant drops in triglyceride, low-density lipoprotein (LDL) and very low-density lipoprotein (VLDL) levels, as well as a rise in beneficial high-density lipoprotein (HDL). An earlier trial likewise found that a daily 4.2-gram dose of spirulina slashed LDL levels in men over the course of eight weeks. However, given the small sample size of these human trials, larger studies are needed to confirm the effects of spirulina on blood lipid profiles and cardiovascular disease.
Diabetes Management
Spirulina may play a promising role in the health of type 2 diabetics. A study published in the winter 2008 issue of "Nutrition Research and Practice" found that after supplementing with 8 grams of spirulina per day for 12 weeks, a group of diabetic patients saw improvements in antioxidant capacity, inflammatory markers and lipid profiles, as well as an increase in plasma adiponectin -- a protein that helps regulate blood sugar.
Nutrient Density
Along with its effects on specific health conditions, spirulina can boost the nutritional value of any menu, thanks to its rich concentration of micronutrients and protein. A single tablespoon of dried spirulina contains only 20 calories, but delivers 4 grams of protein, 11 percent of your daily requirement for thiamine, 15 percent of your daily requirement for riboflavin, 21 percent of your daily requirement for copper, 7 percent of your daily requirement for manganese and 11 percent of your daily requirement for iron. In fact, spirulina's high iron content could make it a boon for combating anemia. A study published in the May 2011 issue of "Cellular and Molecular Immunology" found that anemic adults supplementing with six 500-milligram tablets of spirulina per day saw significant improvement in their markers for anemia.