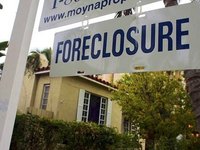 A judicial foreclosure occurs when a court makes a judgment that a home will be foreclosed. The process of a judicial foreclosure is defined by the state that allows them. There also are non-judicial foreclosures, which do not involve the court system. These are pursued directly by the lender against the homeowner.
Significance
A judicial foreclosure is designed for fairness toward the debtor. Some states require judicial foreclosure, the procedures for which vary according to state laws. Generally, the courts protect the debtor from unscrupulous lenders. If a debtor has equity, the court can protect it. If there are not adequate funds after a foreclosed property is sold, the debtor remains liable for the balance. The state in which a foreclosure proceeds is most important. In California, for example, judicial foreclosures are allowed, but residential foreclosures usually are non-judicial foreclosures.

Function
Some states allow primarily non-judicial foreclosures. Others allow judicial and non-judicial foreclosures, and still others are strictly judicial foreclosure states. If a state allows judicial foreclosures, state statutes designate how many months it takes for foreclosure to occur. Also designated are deficiency judgments to lenders. States also establish periods of time in which a homeowner may redeem the home.

Types
Foreclosure can be either judicial or non-judicial, depending on state laws. With a judicial foreclosure, a trust or mortgage deed does not have a sale clause. A judicial foreclosure is filed through and adjudicated by the courts. States determine the precise process to be followed by lenders and debtors. The debtor gets a chance to be heard in court. Non-judicial foreclosures proceed without the courts. The lender notifies the debtor that the property is in default. If the debtor cannot bring the payments current, the lender takes possession of the property.

Features
The process by which judicial foreclosure moves forward begins when a lender files a complaint with the court and files a formal notice that a suit is pending (lis pendens). At this point, the debtor maintains possession of the property and, more importantly, can sell or refinance the property. The homeowner is served notice of pending suit. After a hearing, the judge rules for or against foreclosure. If the debt is valid, the court sets an amount for which the debtor is liable. A sheriff's sale is ordered in the form of an auction.

Considerations
For debtors who may face foreclosure, it is wise to study the applicable state laws. If a state allows for both types of foreclosure, the homeowner is advised to seek legal counsel to determine that option for a residential judicial foreclosure. In terms of future sales, judicial foreclosures are considered to be the safest purchases. The foreclosure order can only be overturned by another court ruling. Therefore, future buyers face less chance of becoming embroiled in difficult legal issues that can result from non-judicial foreclosures.