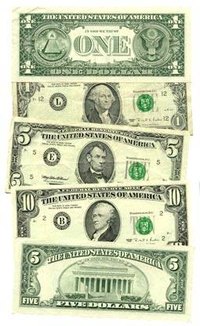 Treasury bills, commonly called "T-bills," are a form of government debt. Using T-bills, the United States government borrows money from the private sector. The terms on a treasury bill stipulate that the loan will be satisfied in one year or less, making them a form of short-term borrowing for the government. They are issued in $1,000 denominations, but the upper limit that can be issued to any individual is unlimited. Because they are backed by the U.S. government, they have been among the safest, most reliable investments available.
History
Treasury bills, like many other forms of government debt, originated during World War I. The U.S. needed money to prepare for war, and because of the world conditions during that time, it was unable to borrow from other countries as it normally would. Instead, it turned to its own citizens, who rushed to buy government bills and bonds to show their sense of patriotism. When the war was over, the government refinanced many of the loans made and eventually realized that it would get better rates by selling that debt in the form of an auction. Since then, T-bills and related securities have always been sold at auction, guaranteeing the government is getting the market rate on its debts.
Function
The purpose of the T-bill and related securities is to provide the United States government with a source of capital to make up for budget shortcomings or required investments. The government uses bills and bonds instead of simply borrowing from other countries because it is a way to keep the economy strong. As interest is paid back to investors, it is invested back into the U.S. economy rather than into the pockets of foreign investors.
Benefits
T-bills are a preferred form of investment for the very risk-wary investor. For investors to lose money when investing in T-bills, the entire U.S. government would have to fail. These bonds do not pay interest in the classical sense. Instead, investors buy the bill for an amount less than face value. For instance, a $1,000 1-year T-bill may cost $960. If the investor holds the bill for the full term of one year, he can cash it in for $1,000 once the term is up.
Potential
In the past, Treasury bills were purchased at banks and through government agencies. As more investment has started to take place online, the government has instituted a program called "Treasury Direct." Under this program, investors can buy T-bills via the Internet, and the cost of the investment will be automatically debited from their bank account. When they cash in the note, the interest is debited as well. The government never has to issue an actual paper bill, making the process faster and less expensive. To encourage investors to use this service, T-bills purchased online often offer better rates of return than paper copies purchased at a brick-and-mortar location.
Considerations
Of course, Treasury bills are only one form of government debt security, and depending on an investor's preferences, other forms may be preferable for their investment purposes. One type is the Treasury note. These are issued in 2- to 10-year terms, and every 6 months a coupon payment is sent to the investor that satisfies a portion of the debt. Another type, the Treasury bond, has a term of 10 to 30 years, and also involves a coupon payment every 6 months. The fourth type, TIPS (Treasury Inflation Protected Securities), are also long-term but offer a rate of return tied to inflation, making them safe for long-term investors.