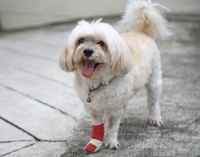 All dog nail disorders and diseases can be quite painful to your pet. Even a torn nail, which may not seem to be a catastrophe, can lead to infections that make your canine companion extremely ill. Your veterinarian needs to do a physical examination and in some cases will need a skin scraping or biopsy to diagnose and treat your pet.
Ingrown Nails
Canine dewclaws grow on the inside of the paw, higher than the walking toenails. A dewclaw is a sort of useless thumb; it does not touch the ground when your fur buddy walks, so the dewclaw grows out if you don't trim it -- so the most common ingrown toenails on dogs are the dewclaws. They grow in a circular fashion and press into the pad, causing pain and swelling and, sometimes, infection. Your veterinarian will likely trim or remove the nail and treat infections of the paw pad with antibiotics.
Torn Toenails
A dog can catch a toenail on a loose fiber in carpeting or bedding, and pulling away suddenly can cause the nail to tear. Some tears bleed; if left untreated, they can become infected. If you are near your dog when he tears a nail, you will probably hear him yelp; otherwise, you may not discover the injury until he starts limping and licking his paw. Your veterinarian can remove the nail from the top of the tear downward and will likely administer antibiotics and bandage the affected paw to stop the bleeding.
Bacterial Disease
A bacterial infection is generally the secondary result of trauma to a claw. Bacterial infection can also occur with diabetes, or hypothyroidism, which is a lack of thyroid in the body, and hypersensitivities in the form of allergies. The affected paw will be hot to the touch, sensitive and swollen. Your veterinarian will examine your dog's claws and paw and take a skin scraping to examine under a microscope. Your pet pooch will receive a course of antibiotic treatment and, most likely, your veterinarian will remove most of the infected claw.
Fungal Disease
Fungal nail disease is rare in dog claws, but it can occur in the nail bed, especially in dogs with allergies. Claws turn a reddish brown and have waxy, brown deposits on the tips. Your veterinarian takes a skin scraping to examine under a microscope for determination of the nail disease. An aggressive therapy of anti-fungal topical medicine will treat the fungal infection, though it may take time and several followup visits.
Onychorrhexis Disease
Some dogs have extremely brittle or dry nails that peel, split or chip away continuously. This nail bed disorder can be congenital or may be because of a lack of nutrients. Fort Collins, Colorado, veterinarian Jon Geller writes on DogChannel.com that a biopsy is the basis for diagnosis of this nail disease, which makes a dog's immune system overactive. Without treatment, the nails will never heal. Vitamin E, fish oil, or fatty acid capsules help to heal the disease and repair the nails over time. Get your vet's approval before you change your pet's diet in any form, including supplements.