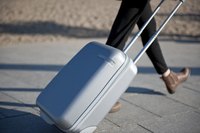 If you've flown any time in the recent past, then you probably already know you'll encounter certain restrictions on what you can bring on the plane -- and how many bags you can bring on as well. In the United States, you'll typically be allowed two carry-on items for domestic flights, but the sizes and the particular restrictions can vary by airline.
Your Best Bet: Read the Fine Print
The standard allowance for domestic airlines, including Delta, Frontier, American and United Airlines, is one carry-on bag and one personal item, though airlines may change their policies -- or charge for carry-on bags -- at their discretion. As such, you should always check with the individual airline to get clear on the rules. Many people opt to bring a small rolling suitcase as their carry-on bag, as those bags tend to fit well in the overhead bins. For most airlines, the maximum dimensions for that carry-on is no more than 45 inches when you add the width, length and height of the bag together. As for the personal item, think a purse, backpack or small bag. Some airlines have specific dimensions for those bags as well, and they're often smaller than the carry-on. United Airlines, for example, allows your personal item to be no more than 17 inches long, 9 inches thick and 10 inches across.