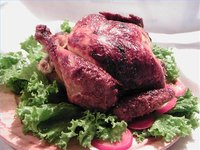 There's no need to open a brokerage account to buy stock in Tyson Foods, Inc. You can purchase shares directly from the company through the Tyson Foods Direct Stock Purchase Plan (DSPP). Simply enroll in the plan through Tyson's Plan Administrator, make your initial deposit to buy shares and become a stockholder in a matter of minutes.
Identification
Investors are invited to purchase shares in Tyson through its Plan Administrator, Computershare Trust Company, NA. The Administrator sets up your account, buys and sells shares for you, maintains your records and sends you regular balance statements. Plan fees are usually lower than those charged by a stockbroker for the same services (see Resources below).
Function
To enroll in the Tyson Direct Stock Purchase Plan, you will pay a fee of $12.50 and you must make a $250 initial stock purchase. Your shares are held in book entry form by Computershare, which means you don't take possession of the actual stock certificates, but they are securely recorded for you. You may transfer or gift your shares to another individual by submitting a Transfer of Ownership form to Computershare.
Features
You may join the Plan at any time of the year. Apply either online or through the mail by filling out the Plan Enrollment Form available on Computershare's website (see Resources below). Computershare will then begin to purchase shares of Tyson common stock on the open market. Share prices are subject to the fluctuations of the stock market. If you decide, for example, to invest $100 a month in the Plan, your investment may purchase a certain number of shares one month and a different number of shares the following month.
Benefits
For convenience, you can make automatic stock purchases through Tyson's Direct Stock Purchase Plan. Simply authorize the Administrator to purchase shares at regular intervals at a cost of $2.50 per transaction. You may also buy shares on your own schedule at a cost of $5.00 per transaction. You may direct Computershare to reinvest your earned dividends to automatically purchase more Tyson stock.
Considerations
If you want to sell any or all of your Tyson shares, you will pay a $15 sales fee and a processing fee of $.15 per share. Any profit you make on the sale of your shares is taxable. You will receive a 1099-B form which will indicate the sale price of your shares. Also, any dividend income you receive, even if it has been reinvested to purchase more stock, is considered taxable income. You will receive a form 1099-DIV stating your dividend earnings.