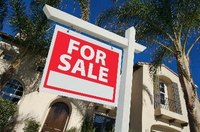 A foreclosure notice is any one of several documents that are filed, presented or posted during the foreclosure process. Once you have missed a couple of mortgage payments, your mortgage company will send letters stating that foreclosure is imminent. But these first communications are not foreclosure notices. They are the mortgage company's attempts to get you to bring your loan up to date. An official foreclosure notice, or Notice of Default, will be filed only when no other options exist.
Time Frame
The terms of most mortgages specify that the mortgage company may begin foreclosure as soon as 30 days after your first missed payments, though most lenders will allow 90 days. During the time before you receive your foreclosure notice, your lender will persistently try to contact you regarding paying your mortgage. However, it is better to contact your lender first, as soon as you know you will be unable to pay.
Potential
When you talk with your mortgage company, disclose the details of your financial situation and ask your lending officer what options he can offer you. Your mortgage lender will lose money--typically $60,000 or more, according to Freddie Mac--if your home goes into foreclosure. So the mortgage lender has a high financial stake in making sure that you never receive a foreclosure notice. To this end, your lender's loss prevention experts are working for you, as well as for your lender.
Prevention/Solution
The period after you miss your first mortgage payment until your mortgage company files a Notice of Default is called the reinstatement period or pre-foreclosure. During pre-foreclosure, you may still have an opportunity to prevent receipt of a foreclosure notice by paying all past due amounts plus any applicable fees. Sometimes your mortgage company will allow you to pay off the missed payments over time, or add them to your existing loan principle.
Considerations
During the reinstatement period, you may be able to dispose of your property while avoiding receipt of a foreclosure notice, and negative consequences to your credit history. You may be able to sell your home to repay the loan, sometimes even for less than you owe, in what is called a short sale. Or, if the bank allows, you may be able to deed the property back to the bank to satisfy the terms of the loan, in a deed in lieu of foreclosure.
Effects
If you are unable to avoid foreclosure, the Notice of Default will be served to you by a law enforcement officer or by certified mail. Each state has its own requirements for filing and service of foreclosure notice documents. Court proceedings vary as well. The foreclosure process almost always requires the posting of foreclosure notices in local newspapers. In some states a Notice of Public Auction, which is also sometimes called a foreclosure notice, will be posted on your property upon the filing of the Notice of Default.