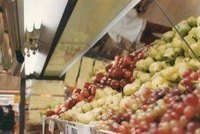 Supermarkets are stores that offer a variety of food and household products for sale. They are larger than traditional grocery stores but not as large as superstores or hypermarkets. Supermarkets are often part of a corporate chain or franchise that controls other supermarkets located nearby. They offer products at low prices by reducing economic margins.
History
The first self-service supermarket was created by Clarence Saunders in 1916. His Piggly Wiggly stores were a financial success. The Great Atlantic and Pacific Tea Company soon followed and became a popular supermarket chain in the 1920s. These early stores did not sell fresh meat and produce. However, combination stores that provided perishable and nonperishable items emerged later in the 1920s. Kroger and Safeway were established by the 1930s, and soon supermarkets dominated the United States and Canada.
Function
Supermarkets sell a vast array of fresh and packaged food products and household goods. The majority of Americans obtain most or all of their food from supermarkets. Many modern supermarkets also incorporate delicatessens with ready-to-eat foods and fresh meat and fish.
Features
Typical supermarkets consist of various departments including dairy, produce, meat, baked goods and shelves stocked with canned, packaged and frozen foods. Alcohol, pet supplies, household supplies and toys/novelties are usually also stocked. Most supermarkets are similar in layout. Fresh produce is located near the main entrance with milk, eggs and other staple items being located near the back of the store. The front of the store contains the cash registers and point-of-sale machines. Traditional supermarkets encompass a large amount of floor space, generally on a single level. They are usually situated near residential areas for convenience.
Benefits
The main advantage of supermarkets to consumers is the huge selection of products available under one roof at low prices. They also offer ease of parking and extended hours. Some supermarkets are open 24 hours a day, enabling consumers to shop when it's convenient for them.
Warning
Supermarkets have been criticized for taking the business of smaller, family-operated grocery stores. These smaller stores cannot compete with the prices of the supermarkets and are often driven out of business. Supermarkets also stock only fresh produce with a long shelf life, which is only a handful of the fruits and vegetables in existence. This practice leads to mid-term extinction of other varieties.