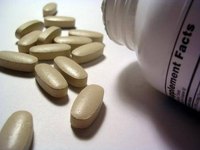 A dietary supplement is a preparation of essential nutrients that may not present in sufficient quantities in any given diet. Dietary supplements are produced to complement or replace the nutritive value of consumed foods for maximum health benefits. They include a wide array of minerals, vitamins, beneficial herbs and other consumable substances known to enhance nutrition intake.
Identification
Dietary supplements are available in liquid, capsule, powder and pill form. They are preparations designed to supplement food consumption with various combinations of herbs, minerals, vitamins, enzymes, amino acids and other ingredients. To qualify as a dietary supplement and not an actual food source, a preparation cannot be a standard form of food. All dietary supplements have to be labeled as such, according to the Dietary Supplement Health and Education Act of 1994.
Types
The many forms and types of dietary supplements are designed to provide convenient options. They are available in capsule form, but also tablet form. If it is difficult to swallow capsules or tablets, many supplements are available in powder or liquid form that can be blended into foods. Dietary supplements are even available as energy bars that combine nutrients with high-energy nuts and grains for a meal on-the-go.
Effects
There are many reasons dietary supplements are consumed, ranging from enhancing diet nutrition to complementing the treatment of a medical condition. According to the National Institutes of Health, Office of Dietary Supplements, several dietary supplements have met the approval of medical doctors, who in turn recommend them to their patients, such as vitamin B6. Among the array of reasons for taking dietary supplements, people take them to enhance their overall health. They are also taken for health conditions, such as arthritis, osteoporosis, colds and the flu, as an immune booster, and joint health. Dietary supplements can help to maintain a healthy state of being.

Considerations
Talk with your health care provider before taking dietary supplements. Each person may respond differently to supplements, and a health care provider can evaluate your overall health condition. Additionally, if you are currently taking other medications or have a history of certain health deficiencies, a health care provider will be able to access any recent updates or research on the supplements of choice. Access to information about dietary supplements is also available from your local pharmacist, as well as dietitians. Online resources, such as the FDA and NCCAM, provide value information about dietary supplements.
Warning
While many supplements are complementary to foods and other medications, several are contraindicated in prescription drug treatments. Supplements such as St. John's Wort, ginseng and ginkgo biloba actually produce an adverse effect if combined with certain prescription medications. Use caution and seek professional advice when choosing dietary supplements. Misuse can cause serious health problems.
Additionally, make sure that the dietary supplement product is sterile or contaminant-free.
Misconceptions
While many dietary supplements are beneficial and have few side effects, dietary supplements have caused harm. Some dietary supplements, when taken in large amounts, can have adverse effects, while others may be contaminated or missing the key ingredients mentioned on the label. Dietary supplements are not regulated by the FDA, therefore standards for their preparation may vary.
Additionally, dietary supplements are often self-administered, which can lead to adverse outcomes. For example, some supplements such as green tea and vitamin E can cause an increase in bleeding. This is potentially dangerous to a person suffering from blood clot formations. Furthermore, increased vitamin intake can lead to toxicity.
Dietary supplement companies are now required to report to the FDA any side effects from their products, but this is dependent on the people who consume dietary supplements reporting any findings back to the company. Since the supplements are often self-prescribed and self-regulated, the adverse effects from a dietary supplement may be attributed to other factors or may go unnoticed.