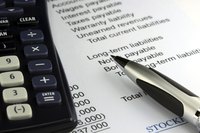 Business management includes creating periodic financial statements. Private companies have options when deciding what types of data to gather and maintain. Public companies, on the other hand, must consistently prepare and present certain financial documents to shareholders and regulatory agencies. One common financial document both types of business create is the comparative balance sheet used for analyzing the company's financial strength.
Standard Balance Sheet
A traditional balance sheet shows the company's debits and credits -- or in business jargon, the assets and liabilities -- at a particular moment. Categories of assets and liabilities vary somewhat depending on the particular type of business. For instance, some businesses maintain inventory, while others do not. Some issue shares of stock, and some do not. Regardless of the type of business, a proper balance sheet balances using the standard equation: assets equal liabilities plus equity.
Comparative Layout
In a comparative balance sheet, accountants include figures from previous months or years for comparison and contrast those numbers with current data. For example, suppose a company creates a comparative balance sheet for the current and prior four years. In the far left column, the rows, or line items, label what each line contains, such as cash, accounts receivable and total assets. Columns to the right in the balance sheet are divided into the different time periods. Looking across the rows and comparing each current amount with amounts from previous years in the same category is easy. The data and time reference points included in comparative balance sheets depend on what the company wants to evaluate. There is no set template.
How It's Used
The comparative balance sheet allows financial analysts, shareholders, creditors and the company's own management to look for and study trends in the data. Suppose a business is working on reducing both short-term and long-term debt. By posting the amounts at the end of each previous year that are included in the comparative balance sheet, progress in debt reduction can be analyzed by seeing if the totals are going down or up.
Limitations on Function
One limitation of the comparative balance sheet pertains to the substance of some dollar figures. Suppose a company owns real estate, trademarks and patents, for example. The cost basis of the real estate, which is what the company paid initially, remains the same on the balance sheet as the asset's value, regardless of whether the market value has increased or decreased dramatically. In the case of trademarks and patents, the value of these assets might not be noted at all on the balance sheet, though such intangible assets could hold significant value. A comparative balance sheet, in other words, may omit important substance.