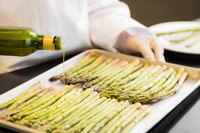 Artificial food additives receive much negative attention among health food advocates, while antioxidants are praised for their beneficial qualities. There are some food additives that double as antioxidants. Propyl gallate is one of these, and is added to a wide range of products in the areas of food, cosmetics, bath products and pharmaceuticals.
Significance
Manufacturers add propyl gallate to food products, including vegetable oil, mayonnaise, meat, soup, dried milk, spices, candy, snack foods, vitamins and chewing gum. Propyl gallate also is a common additive to pet food. The personal care industry adds propyl gallate to perfume, soaps, lotions and moisturizers, lipstick and other make-up, hair care products, bath products, sunscreen, and toothpaste. In addition, the substance is added to adhesives and lubricants.
Function
Propyl gallate prevents oxidation and thus keeps fats and oils from deteriorating or going rancid. Besides causing food spoilage, oxidation in personal care products can cause color changes, thickness and texture changes, and breakdown of active ingredients.
Identification
The chemical name for propyl gallate is propyl 3,4,5-trihydroxybenzoate, and it is the n-propyl ester of gallic acid. It is a crystalline powder which can be white, creamy-white or light brown. One of many common synthetic preservatives, it is listed by the United States Food and Drug Administration as "generally recognized as safe." This means qualified experts recognize its safety under conditions of its intended usage, and the substance did not require a pre-market review or approval process.
Warning
Propyl gallate can cause some adverse side effects, such as stomach irritation, skin irritation, and allergic reactions that constrict breathing. It also can cause extra skin sensitivity. People who have asthma, an allergy to aspirin, or liver or kidney problems, should avoid propyl gallate as much as possible.
Considerations
In extensive laboratory research on propyl gallate, scientists have found toxicity in rats only when raising levels to 70 to 200 times the approved amount. Adverse effects are rare. Laboratory studies even found indication of some beneficial effects from propyl gallate, such as reductions in cancer, birth defects, and teeth cavities, which scientists theorize is because of the antioxidant properties. However, two other antioxidants which propyl gallate is often combined with, butylated hydroxyanisole and butylated hydroxytoluene, have had questionable results in certain studies. Some European and Asian countries have severely restricted the use of BHA and BHT as food additives or banned them altogether. Nevertheless, all three additives are accepted as safe by most countries.