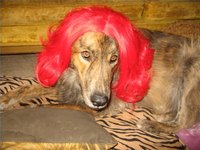 Hair curlers are still used today but were much more popular before curling irons became the rage. Hair curlers offer some benefits over a blistering hot iron, but curlers also have their drawbacks. Folks still intent on using curlers, however, can find the right ones to suit their needs and style, creating the size and shape of the curls they desire.
Types
Hair curlers come in a wide range of different designs, but they all remain fairly simple. One of the longtime staples is the plastic hair curler, which comes in various sizes and features little teeth around the curler to grasp hair in place. These were fastened with a metal clip. Foam hair curlers with a plastic frame and built-in clip were also popular. Another type were the soft curlers, featuring little pillows of foam sewn in an outer covering with wire inside that would wrap around the hair to keep a curl in place. Electric hair curlers, which came on a base that would be plugged in to heat up, were another way to more quickly set curls in place.
Time Frame
The 1960s featured big, bouncy curls at the ends of the hair, bangs curled under and often a bump at the top of the head behind a headband. Soft and puffy curls made the 1970s a time to remember, with feathered hair curled away from the face a staple through the 1980s. The 1990s still stuck with some big, puffy curls but were later replaced by chic, slick styles. The 21st century returned to many styles featuring natural-looking curls. All of these looks, except for the sleek, straight styles, can be achieved with hair curlers.
Benefits
Hair curlers can be healthier on the hair than curling irons, since irons can scorch and can easily make hair dry and brittle. Even the heated curlers are covered in a protective velvet coating and cool off as they linger in the hair, making them much gentler. Hair curlers can be distributed evenly throughout the head, whereas a curling iron only works with one small portion of hair at a time. One more curler benefit is that they can be set at night so the wearer wakes up with a bouncy head full of curls.
Warning
Sleeping in curlers can be a real pain unless it's done right. Wrapping the curlers in toilet paper or wearing a hair net helps keep the curlers in place but still may not make for a comfortable snooze. Special U-shaped pillows are available that prop under the neck so the head doesn't smash into the pillow. Curlers do take some time to properly set, and often women wear curlers out in public. This can look ridiculous, even when the curlers are stuffed under a decorative scarf.
Potential
If someone needs curly hair but finds herself without curlers, she need not fret. There are plenty of curler substitutes that also work to curl hair. Folks have used rag shards wrapped around hair sections and then secured in place with pins. Empty soda cans, fastened with elastic bands or bobby pins at the base of the can, also work. Nearly anything cylindrical, lightweight and preferably hollow could work as a hair curler, as long as the hair fits around it and is properly fastened so it doesn't fall out.