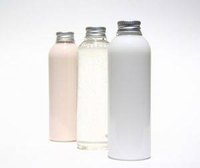 Benzoyl peroxide is a chemical that acts as a bleaching agent. Commonly found in hair dye, teeth whiteners and acne treatments, benzoyl peroxide is used most often as a topical cream or gel that can be applied to the skin. Topical benzoyl peroxide is offered over the counter in low concentrations. Higher concentrations of benzoyl peroxide are also available with a prescription from a physician. Brand-name prescription benzoyl peroxide products include Benoxyl, Benzac, Zoderm, Benzagel, Neobenz Micro, Persa-Gel, Triaz and Vanoxide.
Considerations
Benzoyl peroxide can be used during pregnancy, but only with a doctor's approval. This chemical does absorb into the skin during use and it is not known if the chemical passes into breast milk. Most importantly, the safety of benzoyl peroxide in pregnant women has not been studied, so any affects to the fetus are unknown.
Function
Benzoyl peroxide functions in acne treatments to reduce the bacteria present on the skin and increase the rate of skin turnover. In hair coloring and teeth whiteners, benzoyl peroxide serves to bleach the hair or teeth by removing color. Benzoyl peroxide is also sometimes used industrially in the preparation of flour and industrial resins.
Features
Because of the unknown effects of benzoyl peroxide to a fetus, pregnant women should use caution when using skin treatments. If a product containing benzoyl peroxide must be used during pregnancy, the product containing the lowest concentration of chemical should be chosen. Acne treatment products with benzoyl peroxide generally begin to clear the skin after about three weeks of use. Optimal benefits of benzoyl peroxide products are observed after eight or more weeks of use.
Types
There are a wide variety of acne products that contain benzoyl peroxide including cleansers, creams, gels, soaps, lotions and cleanser pads. These medications are available in concentrations from 2.5 percent up to 10 percent. Application instructions vary according to the product, but most benzoyl medications are used one or two times every day for as long as acne persists. In general prescriptions, benzoyl peroxide treatments contain concentrations of 10 percent benzoyl peroxide; over-the-counter remedies contain 2.5 percent to 5 percent benzoyl peroxide.
Warning
In its pure form, benzoyl peroxide is flammable and toxic. Pure preparations of the chemical are not, however, available for consumer use. Some people may be sensitive to benzoyl peroxide and contact with the chemical can result in skin irritation, burning and itching for these individuals. When first used, benzoyl peroxide may cause dryness and slight irritation that generally subsides after a week of use.