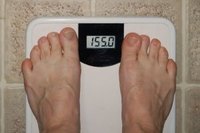 Statistics show that at least 15 percent of children and teens between the ages of 11 and 19 years old are clinically overweight, based upon their Body Mass Index (BMI). This figure does not account for teens who feel they are slightly overweight. With the increase in fast food restaurants and the availability of convenient pre-packaged foods that are high in saturated fats and calories, overweight children face an increased risk of developing weight-related diseases, such as diabetes.
Features
To be effective, a weight-loss program for teens must address not only calorie intake, it should also educate the child in developing healthy eating habits and in making beneficial long-term lifestyle changes. For that reason, some of the best weight loss programs for teens offer access to nutrition, fitness education and a chance to interact with other teens who share the same goals. (See Resources)
Effects
During the teen years, a child's body image can suffer when she compares her body to the models that grace the covers of fashion magazines. Pressure on teens, especially girls, to have reed-thin bodies may result in eating disorders and low self-esteem. A vital part of a teen's weight loss program should therefore center on developing a positive self-image.
Types
Commercial weight loss programs, such as Weight Watchers, may not offer the support a teen needs to succeed at losing weight. Weight loss camps are a popular choice for teens, where they learn to respect their bodies and make friends while taking part in recreational activities like swimming, horseback riding, hiking and camping. When asked what type of weight loss program teens preferred, six out of 10 indicated a preference for a camp-type situation. (See Resources)
Benefits
The benefits of a total weight loss program for teens extend beyond the childhood years in terms of health. The rising incidence of diabetes in the Unites States is partially attributable to the rising obesity rates. In addition, being overweight contributes to other health disorders, including heart disease and digestive problems.
Warning
Parents should take an active role in the choice of a weight loss program for their teen. Counseling for parents is often necessary in order to teach them methods of positive reinforcement for their child's successes and the ability to take an encouraging and nonjudgmental attitude toward their child throughout the program. Negative parental comments and peer pressure are a factor in the development of eating disorders.