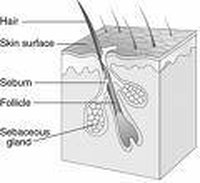 In Latin, the word sebum means "fat." Therefore, it is no surprise that sebum is the name given to an oily substance produced by the body that is comprised of fatty acids, cholesterol and triglycerides. Like other oils, sebum is water-repellent. Therefore, it protects the skin from losing moisture. Sebum can be found in all skin on the body except the skin on the soles of your feet or the palms of your hands.
Identification
Sebum is produced when androgynous hormones stimulate certain glands in the skin called sebaceous glands. The majority of sebaceous glands are located on one's face and scalp. The stimulation of these glands increases during puberty. As a result, the overproduction of sebum is typical during the teenage years. However, the production of sebum decreases with age. In adulthood, women generally produce less sebum than men, especially after menopause.
Function
Sebum is secreted into hair follicles and functions as a lubricant for both hair and skin. The production of sebum helps to prevent hair and skin from becoming overly dry. When joined by sweat, lipids and environmental dirt, sebum forms an oil coating on the skin, called an acid mantle. Acid mantle protects the skin from water loss and bacterial infections.
Effects
Overproduction of sebum can have negative effects. For example, hair may become very oily or even begin to smell if bacteria forms; sebum itself is odorless. Also when sebum is unable to be released by the hair follicle, the pores in the skin can become clogged. Clogged pores are vulnerable to bacteria which causes infection. As a result, the skin becomes inflamed and the formation of acne ensues. Conversely, lack of sebum leads to skin dryness and increased wrinkle formation.
Misconceptions
Although logically it makes sense to combat excess sebum by blotting it, this will not control its production. Blotting may remove surface oil but does not decrease the production of sebum. Also, products designed to control the oil in your skin also have no impact on sebum production. Such measures are not preventative. However, they may be used to absorb what has been produced and aid in drying oily skin. In addition, the production of sebum has nothing to do with the consumption of fatty foods.
Prevention/Solution
If the overproduction of sebum is enabling acne to frequently break out on your skin, increasing your intake of vitamin A may be helpful. Vitamin A reduces sebum production and can be found in many types of food including carrots, spinach, cantaloupe, milk, egg yolks and mozzarella cheese. In addition to eating more foods rich in Vitamin A, reducing your intake of foods that deplete Vitamin A, such as alcohol and coffee, is also important. If medical intervention is required to combat acne, a dermatologist may prescribe Accutane which is particularly effective in decreasing sebum production because it shrinks the sebaceous glands. Also, some forms of birth control pills aid in the reduction of sebum production.