Fat is an essential component of your diet. For good health, however, you need to include mostly healthy choices, which means more oils than solid fats. Rich in vitamin E and monounsaturated fats, almond oil offers nutritional benefits for a healthy diet.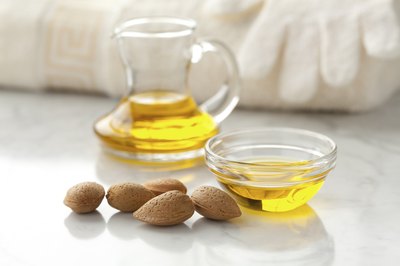 Heart-Healthy Fat
Most of the fat in almond oil comes from monounsaturated fat. One teaspoon of the nut contains 4.5 grams of total fat and 3 grams of monounsaturated fat.
The American Heart Association considers monounsaturated fats heart-healthy. They help reduce your risk of heart disease and stroke by lowering bad cholesterol levels. The association suggests replacing saturated and trans fats with healthier unsaturated fats like monounsaturated-rich almond oil to get the most heart-health benefits.
Fat for Your Cells
Adding almond oil to your diet may also help support cell health. The monounsaturated fat in the oil contains nutrients that support cell production and maintenance, according to the American Heart Association. They are also a structural component of the membrane of your cell and serve as a signaling molecule. This means they help relay messages between your cells, a process essential for tissue function.
Excellent Source of Vitamin E
Most Americans don't meet their recommended dietary allowance for vitamin E, according to the Office of Dietary Supplements. Almond oil may help bump up your intake to help you meet your daily needs. One teaspoon contains 1.8 milligrams, meeting 9 percent of the daily value.
Vitamin E is a fat-soluble vitamin that promotes immune health and the metabolic process and may also be involved in cell-to-cell communication. It is an antioxidant as well.
Other Considerations
If you're allergic to nuts or almonds, you should not include almond oil in your diet. Also, according to Drugs.com, some people have experienced reactions similar to cyanide poisoning when using almond oil. Stop using almond oil immediately if you start to feel sick.
While almond oil makes a healthy fat choice and a healthy addition to your diet, it's still a concentrated source of calories. One teaspoon of the nut oil contains 40 calories. For reference, if you're on a 2,000-calorie diet, Dietary Guidelines for Americans, 2010 suggests you limit your intake of calories from oil to 240 calories a day. To keep a lid on calories, be mindful of how much you add to food. Use measuring spoons to keep calories and intake under control.