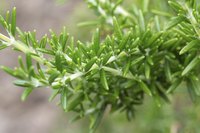 Used since ancient times as a memory enhancer, a hair growth stimulant and an ingredient in soaps and skin oils, rosemary is a staple of Mediterranean cuisine. Fresh or dried, it has a strong flavor that pairs well with meat, seafood, poultry, eggs, cheese and tomatoes. Some research indicates that rosemary may help prevent or treat some medical problems, but more studies are needed. Don't supplement with rosemary for a health condition until you've spoken to your doctor.
Nutrition Information
A 1-tablespoon serving of fresh rosemary leaves contains 2 calories; dried rosemary supplies 11 calories per tablespoon. Both have only a trace amount of fat, sodium and protein and no cholesterol. Dried rosemary contains approximately 2 grams of carbohydrates and 1 gram of dietary fiber, while fresh rosemary has less than 1 gram of each. Dried and fresh rosemary supply a variety of vitamins and minerals such as vitamin A, vitamin C, calcium, manganese and B vitamins like riboflavin in amounts too small to be significant, with one exception. Each tablespoon of dried rosemary has 1 milligram of iron, an amount that supplies a man with 12 percent of his daily requirement and a woman under 50 with 5 percent of hers.
Antioxidant Properties
According to an article published in Carcinogenesis in 2002, rosemary is rich in antioxidants like phenols, flavonoids and terpenoids. The majority of the herb's antioxidant properties come from two compounds: carnosic acid and carnosol. In the laboratory, carnosic acid slowed the growth of cancerous cells by as much as 30 percent, reported a study published in Plant Foods for Human Nutrition in 2010. The researchers concluded that rosemary may be an important anti-cancer addition to the diet, but human trials need to be conducted first. Another study, published in 2010 in Pharmacological Research, showed that rosemary's antioxidants, especially carnosic acid, helped enhance the effectiveness of cancer chemotherapy drugs.
Rosemary Supplementation
Dietary supplements containing rosemary are available as tinctures, liquid extracts, teas and capsules filled with the dried, powdered leaves. Some of these supplements have been used to treat chronic Candida infections, atherosclerosis and digestive complaints like heartburn and indigestion. The University of Michigan Health System points out, however, that none of these uses has been determined to be safe or effective.
While it's safe to consume rosemary in foods, rosemary supplementation may cause vomiting, pulmonary edema and muscle spasms and may interfere with the function of diuretics, blood thinners, ACE inhibitors and diabetes medications. Pregnant or nursing women, children and people with hypertension or digestive disorders like Crohn's disease or ulcers should not use any amount of rosemary supplements.
Tips for Using Rosemary
One way to reap the benefits of rosemary is to use the herb as a flavor-enhancing substitute for salt, fat and high-sugar or high-sodium seasoning mixes when you're cooking. Instead of marinating meat, fish or poultry in commercial products that may contain an unhealthy amount of added sugars and salt, use rosemary combined with other spices and herbs such as paprika, cloves and coriander. Toss salads or drizzle vegetables with rosemary-infused vinegar instead of creamy salad dressings or butter. Lowering your fat, salt and sugar intake in this way may help you lose weight and decrease your risk of heart disease, diabetes, stroke and high blood cholesterol.