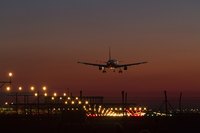 Everyone has an opinion on the best time to buy airfare, but a 2013 study that looked at more than 4 million flights set the data in stone. Armed with this knowledge and its variables, you can employ a few strategies to find a great price.
Domestic Flights
The best possible time to purchase airfare is 54 days before departure, but you don't have to hit the nail on the head. About 104 days before departure, airfare drops into the "prime booking window" where it hovers within $10 of its absolute lowest price and stays there until 29 days before departure. Then price tends to climb steadily until it starts accelerating, hitting its peak the day before departure. The 13th most expensive day to buy airfare is 13 days before departure. The 12th most expensive day is 12 days out, and so forth. Don't go looking for last-second deals.
Day of the Week
Contrary to popular belief, the best days of the week to purchase airfare are on Saturday and Sunday. A Texas A&M study found that prices tend to drop about 5 percent on the weekend to attract leisure travelers. But there is a caveat. Airlines post travel deals on Mondays and competing airlines scramble to match the savings, occasionally making Tuesday the best day of the week. So research airfare discounts on a Monday inside the prime booking window. If you find a few deals, wait until Tuesday to scoop up the best one. Otherwise, book your domestic flight on a weekend about 54 days ahead of departure for the best deal.
Travel Times and Destinations
Flights during holidays or to certain destinations never get a chance to drop into the prime booking window. They sell out quickly, so you need to buy them well ahead of time. Flights to Florida during spring break or flights to Europe in the summer tend to be cheapest 319 days before departure. Flights for Thanksgiving are cheapest five months before departure and Christmas six months. Buy airfare for vacation destinations such as Fort Lauderdale, Florida; Phoenix, Orange County, California' San Diego, West Palm Beach, Pensacola, and Orlando -- all in Florida -- 75 days in advance. Book your Vegas trip 81 days ahead of time and buy your Hawaiian vacation airfare 87 days before departure.
International Flights
The best time to purchase international flights depends on which part of the world you'd like to visit. The region and the amount of days ahead of time you should buy a flight are as follows: Mexico 89; Caribbean 101; South America 80; Europe 151; Middle East 80; Africa 166; Asia 129; and the South Pacific 70.
Travel Day
You can further reduce your airfare by being flexible with your travel dates. Midweek flights, either departing or arriving, offer the cheapest fares. So plan on leaving and returning on a Tuesday, Wednesday or Thursday.