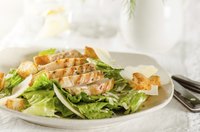 A few simple changes in your diet can help keep gastroesophageal reflux disease, or GERD, under control. But you won't find a one-size-fits-all diet. Even though certain foods and beverages may cause acid reflux, the specific triggers are different for each person. To get the best results, talk to your doctor about a treatment plan tailored to support your health and nutrition needs.
GERD and Impact of Food
A muscular ring at the top of your stomach, called the lower esophageal sphincter, or LES, opens to let food into the stomach, but stays closed the rest of the time to keep acids inside the stomach. If the muscle weakens, stomach contents flow back up into the esophagus, causing acid reflux.
When reflux occurs more than twice weekly for several weeks, it's categorized as GERD, according to the National Institute of Diabetes and Digestive and Kidney Diseases.
Some foods and beverages cause reflux because they weaken the LES or increase stomach acid. A GERD diet is based on eliminating the foods that trigger your reflux.
Determine Your Triggers
The first step is figuring out which foods affect your system. For at least a week, jot down what you eat and drink, then make a note of your symptoms if you experience acid reflux afterward, suggests the International Foundation for Functional Gastrointestinal Disorders.
Review your notes to identify which items are associated with reflux episodes. Finding the triggers might require some trial and error. You may need to eliminate all items on the foods-to-avoid list and add them back to your diet one by one to find the reflux-causing foods.
It's important to keep monitoring your GERD episodes. Stay mindful of what you consume prior to reflux episodes so that you can quickly identify new triggers.
Beware of These Foods
The foods most likely to trigger reflux include chocolate, peppermint, citrus fruits, onions, tomatoes and tomato products, reports the International Foundation for Functional Gastrointestinal Disorders.
Alcoholic drinks, citrus juices, carbonated drinks, coffee and other caffeinated beverages should also be avoided.
Fried, spicy and fatty foods tend to aggravate reflux. Consuming too much fat, especially saturated fat, is associated with an increased risk of GERD symptoms, reported an article in the World Journal of Gastroenterology in February 2008.
Cold cuts, sausage, bacon, butter, oils, whole milk and other high-fat dairy products are some of the common fatty foods that may cause problems.
Foods to Enjoy
You'll find more foods on the list to enjoy than on the list to avoid. For starters, you can keep all fruits and vegetables in your diet other than tomatoes and citrus fruits.
Skinless poultry, fish and low-fat meats are acceptable, as long as they're not fried or served in high-fat sauces. Chances are you can tolerate fat-free milk and low-fat yogurt and cheese, reports Jackson Siegelbaum Gastroenterology.
Any type of decaffeinated and nonalcoholic beverages -- except citrus juices -- are also recommended. Be sure to include whole grains in your diet because they provide fiber, which may help improve GERD, according to a 2009 report in Nutrition Reviews.