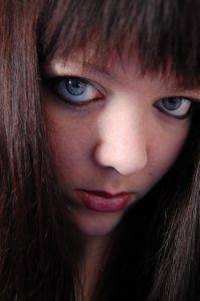 Nearly everyone has experienced dark circles under their eyes at one time or another. Dark circles can be just a harmless side effect of allergies or sinus issues. In some cases, dark circles are an inherited trait. Rarely, dark circles under the eyes can indicate larger medical issues. In any case, there are proven tactics to reduce the appearance of these cosmetic flaws.
Identification
Dark circles are caused by various factors, including but not limited to heredity. Skin tone and level of transparency of skin around the eyes can cause dark circles, as can weakened capillaries in the area. Weak capillaries may "leak" red blood cells into the body, causing bruise like symptoms. As the body's enzymes start to reabsorb the blood cells, the remaining elements have a blue-black color, which causes the appearance of dark circles. Excessive exposure to the sun can increase the appearance of dark circles, as can allergies. In fact, dark circles in children often indicate allergy problems. Dark circles also increase with age, since skin becomes thinner and more translucent as we grow older. In rare cases, poor nutrition (including the lack of vitamins A, C, and E, or lack of iron) can exacerbate the problem. Certain medications, like birth control pills, can add to the appearance of dark circles as well since they can dilate capillaries, making dark circles more prominent.
Warning
Since dark circles under the eyes can occasionally indicate a more serious problem, take note of your physical condition if they appear suddenly. In some cases, dark circles can indicate kidney function problems or allergic reactions. If you notice other symptoms in conjunction with the appearance of dark circles, contact your physician immediately. These might include fever, a rash on your skin, or trouble breathing. Women should note that undereye circles can be caused by your menstrual cycle. This happens because the hormone surges experienced during this time can cause the skin to be paler, causing more prominent circles. Many women also experience loss of iron during menses, and bloating or swelling of the face during the pre-menstrual period can cause bags under your eyes to appear more obvious.
Misconceptions
A common misconception about dark under eye circles is that they are caused by lack of sleep. In fact, lack of sleep causes your skin to be paler, which accentuates the circles under your eyes, making them appear more prominent. Another misconception is that pregnancy (and other times of hormonal shifts) causes dark circles. Actually, hormones are much like lack of sleep in that they cause the skin to be pale, and can make the circles under your eyes to be more prominent.
Expert Insight
There are a number of commercially available treatments for dark under eye circles. However, according to Dr. John Persing, Chief of Plastic Surgery at Yale University's School of Medicine, these creams can be unreliable for people with excess pigmentation or allergy problems. He says, "Multiple creams are available; however it is unclear how effective they are." He suggests looking for a product containing alpha-hydroxy, which can thicken the skin, helping to reduce the appearance of dark circles.
Potential
Another option for reducing the appearance of dark circles is to try natural products. For example, using warm tea bags (unsweetened, black tea) can help, since the caffeine helps to restrict the blood vessels around the eyes. You can also try slicing up a cucumber and placing it over the eyes. A variation of this idea is to grate the cucumbers into tiny pieces (such as with a food processor) and then massage them around your eyes. Some people also freeze a spoon and place it under their eyes for a quick fix.