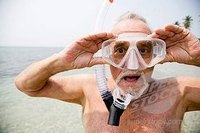 When you think of snorkeling, images of coral reefs and tropical fish instantly come to mind. While Caribbean and other far-reaching destinations sound great, why not save some money and snorkel somewhere closer? Gulf Shores, Alabama, right on the Gulf of Mexico, offers spectacular snorkeling here in the U.S.
Geography
A great getaway is closer than you think. Located in the heart of the Alabama Gulf Coast, Gulf Shores is just a few hours drive or flight from several major U.S. cities. Thousands return each year to enjoy the miles of white sand and crystalline waters, not to mention the snorkeling.

Expert Insight
Gulf Shores' balmy climate and clear waters provide water sports enthusiasts with plenty of opportunities for virtually every kind of fun--especially snorkeling. All you need is a mask and a snorkel, and you're all set . . . an underwater world awaits you just feet from the shore.
Considerations
Perhaps the most well-known diving and snorkeling operation in Gulf Shores is the Down Under Dive Shop. Down Under rents snorkeling equipment and offers a snorkeling charter cruise. A mask and snorkel, or a set of fins, rent daily for just $10. Down Under even offers a two-hour boat trip especially for snorkeling that costs $35 per person.
Warning
Jellyfish and Portuguese Man of Wars love the warm waters of Gulf Shores, Alabama, as much as those who return year after year for fun in the sun. Should you inadvertently get stung by either of these creatures, do not rinse with fresh water as that will only increase the stinging. Instead, apply a mixture of meat tenderizer and salt water, or vinegar, to the sting.
Warning
The city of Gulf Shores recently introduced a five-colored flag-warning system to let swimmers know when it's safe to enter the water. Green indicates calm waters, which are ideal conditions for snorkeling. A red flag means no swimming as conditions are dangerous. A local website advises swimmers to stay away from dangerous waters and fast currents of the shallow pass between Little Lagoon and the Gulf on West Beach.