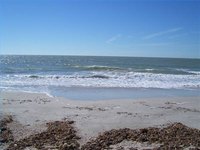 Clearwater Beach, Florida, is a beautiful expanse of white sand offering activities from swimming and boat tours to sunset parties on the pier. Definitely a don't miss activity in Clearwater Beach is snorkeling.
Geography
Clearwater Beach is located on the Gulf coast of Florida near Tampa and north of St. Petersburg. The city contains a total area of 37.7 miles, 25.3 of it land. You can locate it on a map at 27°58′25″N, 82°45′51″W .
Types
Snorkeling in Clearwater offers several options. You can snorkel on your own at Clearwater Beach or Sand Key Park. For guided tours, a variety of boat tours are available in the area. Windsong Sailing Charters takes visitors snorkeling over a local reef as well as a sunken shrimp boat. Captains Now and Hubbards Marina provide tours to Egmont Beach, where you'll snorkel over a sunken Spanish American war fort.
Time Frame
The best season for snorkeling in Clearwater Beach is mid-February through early September. From mid-September to late November, you'll still get days where the snorkeling is worthwhile, and the beaches will be less crowded. If you are snorkeling on your own, any daylight hours are fine. Guided tours usually take place between 10 a.m. and 4 p.m. Clearwater Beach is open 24 hours, but state park beaches in Florida open at 8 a.m. and close at sundown.
Features
Clearwater Beach is a white sand beach with volleyball courts, concession stands umbrella rentals, and a variety of souvenir shops and restaurants Pier 60 on Clearwater beach has a playground, showers and fishing pier. Marine life frequently spotted while snorkeling in the area includes bottle-nosed dolphins, turtles and stingrays. The reefs in the area feature brightly colored sponges.
Considerations
For safety reasons, it is always best to go snorkeling with a buddy. For amateurs, a guided tour is the best option, as your captain can give you pointers and show you the best spots to see the most interesting marine life and sights below. Avoid snorkeling in areas with boats, as they will churn up the water and limit visibility. If you are interested in seeing more extensive reefs, consider visiting the Florida Keys.