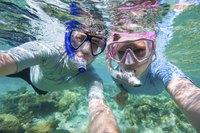 The more abundant the marine life, the greater a destination's appeal for snorkelers. Sanibel Island off the coast of southwest Florida is a mere 12 miles long and 3 miles wide -- tiny Captiva Island across the bridge only a third that size. However, the sea floor surrounding these specks in the Gulf of Mexico is seeded with artificial reefs, all housing diverse, thriving communities of creatures. Charter boats take serious snorkeling enthusiasts out to deep-water diving spots, but jewels also sparkle in the shallows close to shore.
Natural and Artificial Reefs Abound
Artificial reefs are created by strategically repurposing junk that has outlived its usefulness, thereby increasing underwater habitats for aquatic animals. In addition to the natural reefs found in these waters are more than 20 man-made reefs within easy boating distance from the shores of Sanibel and Captiva Islands, including those created from the rubble of a mainland bridge, old school buses, railway boxcars, barges, tugboats and cell phone towers. A favorite is the USS Mohawk, a 165-foot World War II Coast Guard cutter. Scuttled 28 miles off the coast in July 2012, "Mighty Mo," designated a marine veterans' memorial, now teems with life.
Sanibel's Marine Wildlife
The wildlife species you'll see around reef habitats vary depending upon location, depth, distance from shore and architectural features but include moray eels; jellyfish; several species of grouper, including the 300-pound goliath grouper; various types of sharks, including whale sharks; crustaceans and bivalves such as lobsters, oysters and scallops; and fish, including barracuda, stingrays, hogfish, snapper, amberjack and cobia. Dolphins and different species of sea turtle also swim in these waters. Sanibel is renowned for the beauty and variety of locally found shells occupied by some 250 different creatures, so even shallow-water snorkelers can expect to spot the aquatic armor of conches, crabs, clams, cockles, periwinkles, sea stars, sand dollars and other shellfish. Indigenous waterbirds include egrets, herons, ibises and white pelicans.
Potential Hazards
In August 2013, a teenage boy fishing in 3 feet of cloudy water on a sandbar got a bite he'll never forget -- from a shark. After measuring the circumference of the puncture marks, the doctor who treated the lad estimated the biter to have been 7 to 8 feet long. Of the 24 unprovoked shark attacks in Florida waters reported that year, this was the only one near Sanibel, although the shark responsible was the largest -- a bull shark. In some weather conditions, stinging jellyfish can proliferate and become a nuisance as well as a health hazard, both in the water and underfoot if they wash up on the beach. But the most consistent problem snorkelers need to protect themselves against is sunburn.
Seasonal Weather and Water Conditions
Surface water temperature rarely falls below the mid-60s but typically warms into the mid-70s by April, staying in the high and mid-80s through October. During the hottest months, June through September, which are also the rainiest, temperatures range from the mid-70s to 90-plus. Even during the coldest months, December through March, daytime highs reach the mid-70s. Sanibel and Captiva Islands aren't considered hot spots for tropical storms and hurricanes, but when they hit, they're more likely to do so from July through October. According to Rick Stratton, publisher of Dive News Network, visibility in these waters is highly variable, ranging from 5 to 50 feet depending upon season, depth, dive site and distance from shore. For exploring the nooks and crannies in reefs, Stratton recommends that divers take along a flashlight. Others have noted that underwater visibility isn't as consistent as in the Florida Keys, where coral reefs keep the waters crystalline, but the trade-off is Sanibel's comparatively greater variety of marine life.