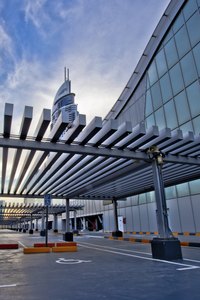 You may think the Mall of America is large, but the Minnesota mall ranks number 12 on the list of the world's largest malls. There are two methods for measuring mall size -- total shopping space and total area. The incumbents are New South China Mall and the Dubai Mall, respectively. If you have trouble making it through Ikea without breaking into cold sweat, you should probably steer clear of these top contenders.
New South China Ghost Town
The largest mall in the world based on gross leasable area -- that is, the mall with the most store space -- is New South China Mall in industrial Dongguan, China. But don't be too excited to get out there and shop; the mall has gained infamy as a ghost town since its development in 2006. Occupancy flutters around 2 percent, leaving much of the 7.1 million square feet of store space eerily empty. The ghost mall was an overambitious venture, but now remains an interesting, off-the-beaten-path travel destination that exemplifies the Chinese industrial complex.
Nothing Short of Dubai
Though New South China Mall ranks highest in terms of shopping space, it was built high and compact; meanwhile the Dubai Mall is recognized as the largest mall in terms of overall area. To put things in perspective, one man recently celebrated having escaped the mall after being lost inside for over a year. At 13 million square feet, the behemoth shopping center houses a high-octane theme park inspired by Sonic the Hedgehog; a large aquarium that has gained renown for using the world's largest acrylic panel; an Olympic-size ice skating rink; a real 150-million year old dinosaur skeleton; and, of course, a Cinnabon. It's no wonder the thriving mall attracts nearly 70 million visitors each year -- more than New York City. The Dubai Mall is so much more than "going out shopping," and is recommended for a long-term shopping vacation, or simply a trip to marvel at its enormity.