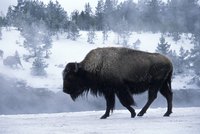 America's first national park is in Wyoming -- mostly. Ninety-six percent of Yellowstone National Park's 3,500 square miles takes up the northwest corner of the Cowboy State, with smaller slivers spilling over into neighboring Montana and Idaho. The National Park Service warns against relying on GPS units when navigating Yellowstone because of the inaccurate information they provide about roads in this remote area.
Entrances
Yellowstone has five entry points. Only the north entrance at Gardiner, Montana, and the northeast entrance near Cooke City, Montana, are open year-round to regular automobile traffic. The west entrance at the town of West Yellowstone, Montana, is open to automobiles between late April and early November. The closest major cities to the south and east entrances respectively are Jackson and Cody in Wyoming. These entrances have limited services and are open to automobiles between mid-May and early November.
Closest Airports
The closest airports to Yellowstone providing commercial airline service year-round are the Bozeman Yellowstone International Airport in Bozeman, Montana; Billings Logan International Airport in Billings, Montana; Jackson Hole Airport in Jackson; and Yellowstone Regional Airport in Cody. Yellowstone Airport in West Yellowstone is the closest airport to the park but only operates between June and early September, with connecting flights from Salt Lake City.