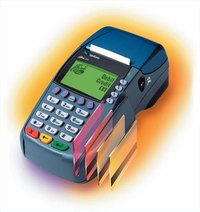 Every retail business, large or small, brick and mortar or e-commerce based, wants to accept credit cards. And, they should. Studies have shown that companies who do not accept credit cards often increase business by as much as 40% by changing their minds about plastic cards. Here are some ideas to help you get the right credit card machines to save you money.
History
When business first moved from using telephone authorizations to electronic credit card machines, the hardware was slow, required a checkout person to key the card number in, and accessed "batch" files (not online, real time data). Even these machines were quite expensive and only larger businesses were on the cutting edge. As the hardware improved and cards could be "swiped," the speed of communication and the files they accessed became more reliable and up to date. Affordable was still a matter of opinion, however.
Types
In the 21st century, however, technology has improved and affordable credit card machines are available. Even smaller businesses now have at least three choices to operate a smooth credit card process. - "Land line" telephone modem credit card machines; - Mobile devices, some of which use a cell phones for communications; - "Virtual terminals," which allow businesses to use their cash register or PC to process credit card transactions.

Considerations
Decide what type of credit card machines best suit your business. Consider these examples: • Your business sells to in-person buyers. A classic credit card machine, which uses a standard telephone line, should be sufficient to handle all credit transactions. • You have a restaurant, plumbing business, marina, flea market, or similar business that requires you to be "out" with your customers. A mobile credit card machine is a wonderful solution. • You have an e-commerce and/or telephone order business. Instead of hardware, you could use software to create a virtual terminal on your PC. You could be working on your website, answering emails, or writing sales letters and immediately switch your PC into a credit card terminal.
Warning
Don't overpay for a credit card terminal. Many credit card companies will even give you a free terminal. Learn about the true prices for credit card terminals, since pricing often parallels used car philosophy. It's easy to pay too much for a credit card machine -- do your homework and learn what competitive pricing is available. If you decide to lease hardware, be realistic and smart. Otherwise, you might pay more than three times the cost of the hardware over the term of a bad lease.
Benefits
You can find credit card machines that are refurbished for less than half the price of a new one. As long as they work well, do you really care if they've been used before? If your credit card company offers "free" terminals, learn about the conditions involved. There should be few. You might increase your business by up to 40% and suffer little damage to your budget.