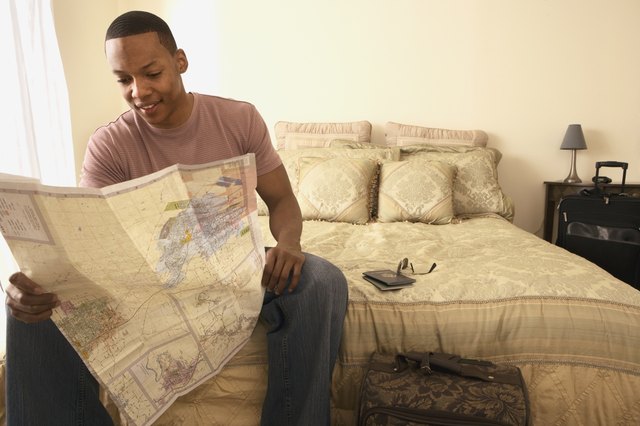 Don't begin studying maps for your next, big foreign adventure until you apply for a U.S. passport because this travel document, issued by the U.S. State Department, can take a month or more to arrive in your mailbox. You'll have to wait even longer if you don't submit the proper documents and required information. What papers you'll need depends on whether you are applying for your first passport or trying to renew a lost or expiring one. In any event, you'll need a check or other means of paying the hefty fees.
First Time's the Hardest
The first time you do anything is harder than the second or third, and this truism applies to getting a U.S. passport. For your first passport, you'll need to fill out more paperwork and make copies of more documentation than for subsequent trips to the passport office.
Application Form
The first and most important document required for an initial passport is Form DS-11, Application for a U.S. Passport. Fill this form out completely by hand or online and present it in person at the passport office with all supporting documents.
Proof of U.S. Citizenship
If you were born in the U.S., submit a certified birth certificate.
If you were born in the United States but don't have birth records, you must submit a statement by the registrar in the county where you were born to that effect along with a combination of other documents evidencing your birth. The state department suggests a certificate of your baptism or circumcision; family, school, medical or census records; or a copy of a published birth announcement, among other documents.
If you were born outside the United States and claim citizenship by birth, submit:
Consular Report of Birth (Form FS-240),

Certification of Birth (Form DS-1350 or FS-545) or your foreign birth certificate,

evidence that your parent was a U.S. citizen,
your parents' marriage certificate, and

affidavit showing all of your U.S. citizen parent's dates and places of residence and physical presence in the U.S. and abroad before your birth.

If you were born outside the United States and claim citizenship by the naturalization of a parent, submit:
your parent's Certificate of Naturalization,

your foreign birth certificate,

documentation that you were admitted to the U. S. for permanent residence, and

proof of your parents' marriage.

Tip
If you provide a foreign birth certificate, also provide a certified translation.
Proof That You Are Who You Say You Are
The U.S. State Department doesn't want to give you a passport in one name if your real name is something else, so it requires proof of your identify. Submit one of these acceptable photo ID documents:
previous or current U.S. passport card

driver's license

Certificate of Naturalization

Certificate of Citizenship

your military ID

government employee identification card

Warning
A temporary driver's license or learner's permit is not considered adequate to prove your identity.
Recent Color Photo
The U.S. State Department is picky about your photo, so don't try to use a Photoshopped snap from your blog. You'll need a head shot taken within the past six months. Your best bet to get it right the first time is to go to a photographer that specializes in U.S. passport photos for a photo that meets the state department's requirements.
Renewing a Passport
It's easier to get a passport once you have had the first one. You'll need an application for renewal by mail (Form DS-82), your most recent passport, proof of any change of name and one photo.
If you are under the age of 16 or cannot present your last passport for any reason, you cannot use the application by mail process, but must appear in person at a passport office.
Tip
Apply early. Routine processing time can take up to six weeks.