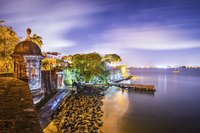 Located in the warm, clear waters of the northeastern Caribbean Sea, Puerto Rico is an inviting travel destination for many Americans. Officially called the Commonwealth of Puerto Rico, the islands making up this Caribbean destination are actually an unincorporated territory of the United States. And while citizens of other countries need passports for travel to Puerto Rico, it's normally the case that U.S. citizens do not.
Puerto Rico Passport Requirements
Passports aren't needed by U.S. citizens traveling directly from the mainland United States and its territories, including the U.S. Virgin Islands, to Puerto Rico. Because of its commonwealth status, Puerto Rico and its citizens also enjoy unrestricted travel between the U.S. mainland and the commonwealth. If you're a U.S. citizen and traveling to Puerto Rico from another country, though, all applicable State Department passport requirements upon arrival in Puerto Rico apply.
Vaccination Information
There are no mandatory vaccinations required for U.S. citizens traveling to Puerto Rico. The U.S. Centers for Disease Control and Prevention does recommend that travelers to Puerto Rico ensure they're up-to-date on their hepatitis A and typhoid vaccinations, however. CDC recommends hepatitis A and typhoid vaccinations for Puerto Rico because of the risk of contracting hepatitis from contaminated food or water no matter where one stays in the territory.