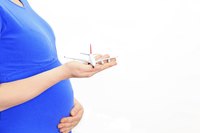 Flying while pregnant may be one of the easiest times to fly along with your child. There are no bottles or bibs, and no crying, seat kicking or toys flying into the aisle. While most women with healthy pregnancies should have no problem squeezing in that last trip or vacation, certain times are better than others to fly while pregnant. Women who must fly very frequently should check with their doctors because of increased radiation risks, warns the Mayo Clinic.
Best Time to Hit the Skies
While it might be alright for you to fly during the first trimester, many pregnant women prefer flying during the second trimester, says What to Expect. Between weeks 12 and 28, expectant moms are more likely to have high energy and less morning sickness, and still feel mobile. There's also less risk of miscarriage, which is more frequent during the first trimester, and dodges the heavy fatigue common in the third trimester. Most doctors -- and airlines -- prohibit flying from week 32 and up, depending how many extra passengers you are carrying.
Tips for Two
Once you've got the go-ahead from your doctor to fly, get approval from your airline; all carriers have their own rules and regulations. If you've got the green light, select an aisle seat for more room and easy access to the bathrooms. Drink plenty of water to stay hydrated; take frequent walks in the aisles, and strap on your seat belt -- below your belly. You may also want to bring a copy of your prenatal chart.