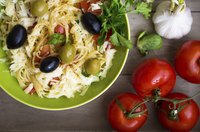 Vegetarians do not eat meat, poultry and fish and some also exclude animal products, such as milk, cheese and eggs. You may choose a vegetarian lifestyle for a variety of reasons including your health, environmental concerns, respect for animals, commitment to nonviolence, spirituality and a preference for vegetarian foods. Vegetarian foods offer several nutritional advantages because many are low in fat and high in fiber. Carefully plan your diet to ensure you're choosing healthy foods and getting all your recommended nutrients.
Shed Some Pounds
Vegetarian diets tend to consist of fruits, vegetables, soy, nuts and legumes. They have a propensity to be low in saturated fat and cholesterol and high in vitamins, minerals, complex carbohydrates, fiber and antioxidants.
A study published in 2015 in Nutrition randomly assigned participants to five weight-loss groups -- vegan, vegetarian, fish-eating vegetarian, poultry-eating vegetarian and meat eating. After six months, the vegan and vegetarian groups lost 7.5 and 6 pounds, respectively, compared to 3 pounds in the other groups.
By keeping your weight in a healthy range, you can reduce your risk for chronic disease.
Long-Term Health
The 2010 Dietary Guidelines for Americans states the majority of people in the United States do not eat sufficient amounts of whole grains, vegetables and fruits, and these foods are associated with a lower risk of chronic disease. According to registered dietitian Betty Kovacs in an article on medicinenet.com, vegetarian diets have been linked to a reduced risk for cardiovascular disease, high blood pressure, Type 2 diabetes, kidney disease and certain cancers. Harvard Health states it's difficult to determine if it's the diet that influences long-term health or other lifestyle choices vegetarians tend to make, such as exercising, not smoking and not drinking in excess.
Increase Energy and Life Span
A study published in 2013 in the Journal of the American Medical Association showed eating less meat is associated with a lower overall early mortality rate. The study followed more than 70,000 men and women and their dietary habits for five years. The results indicated a 12 percent reduction in early death in vegetarians compared to nonvegetarians.
You'll have more energy in those years, too. The complex carbohydrates typical of a vegetarian diet gradually boost your blood sugar, providing you with energy for a longer period of time. Low-fat vegetarian foods keep your blood and oxygen circulating, while fatty foods clog your arteries over time, depriving you of oxygen and making you feel sluggish.
Recommendations and Considerations
Vegetarian diets can be healthy and nutritionally sound, but they need to be properly planned. Limit fried foods, baked goods, candy and soda. Eat a variety of whole grains, beans, low-fat dairy products, eggs, quinoa, soy foods, nuts and seeds throughout the day to get all your amino acids, the building blocks of protein. Focus on dairy and soy products for calcium and vitamin D and dark green leafy vegetables for calcium. Consume vitamin C-rich foods with iron-fortified breads and cereals and seeds, nuts and green vegetables to increase how much iron you absorb. Talk to your doctor about a vitamin B-12 supplement if you don't eat enough dairy products and eggs.