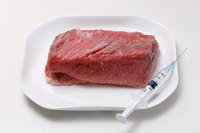 The use of pesticides and hormones is a widespread practice in the U.S. food industry. The benefits, safety and necessity of these substances are issues of concern to the public, government and businesses. Studies have been conducted and data collected by a variety of organizations to address these concerns. The results indicate both safe and unsafe uses of these substances in the foods we eat.
Pesticide Residue
The U.S. Food and Drug Administration (FDA) has published an annual pesticide report since 1987, with the latest available report being from 2012. The report investigates a number of food groups for their levels of pesticide residue. The amount of residue is compared to guidelines set by the U.S. Environmental Protection Agency (EPA). Results from the 2012 pesticide report show that 97 percent of domestic food tested did not violate safe levels set by the EPA. The food groups tested included grains, dairy products, seafood, fruit and vegetables. While safe by EPA standards, all of these food groups contained pesticide residue. Fruit is the only group where a majority of all samples taken contained pesticide residue, though at safe levels. The food group with the largest proportion of pesticide residues at unsafe levels was vegetables. Over 5,000 samples from all food groups were collected for the report.
Pesticide Health Risk
The EPA follows a four-step process to determine the human health risk of a pesticide. This process was created by the National Research Council. The first step is known as hazard identification, where the health effects caused by pesticide exposure are determined. The second step is a dose-response assessment where they determine what dose of a pesticide causes unwanted effects. The third step is finding out how exposure to the pesticide occurs; in the case of many fruits, exposure to the pesticide occurs from residue remaining on the fruit. Lastly, the fourth step uses the information from the first three steps to assign a risk factor to the pesticide.
Hormone Supplements
The FDA approves the practice of giving hormones to cows, sheep and goats. Some of these hormones are naturally occurring, like testosterone, estrogen and progesterone. Other hormones given to these animals are created in a lab, known as synthetic hormones. These synthetic hormones are made to mimic natural hormones. Hormone supplementation is practiced so the animal grows faster and produces more meat and dairy products. Other times, hormones are given to synchronize the reproductive cycles of the livestock and to increase birth rates. About 95 percent of U.S. beef cows receive some type of hormone, while 15 percent of dairy cows receive a synthetic hormone known as recombinant bovine growth hormone, rbST, also called rbGH. Dairy cows are given rbST to increase their milk production.
Hormones in Milk
Since cancer has been linked to hormone levels in humans, concerns have been raised regarding human cancer risk from milk from rbST-treated cows. Dairy cows treated with rbST have higher levels of a protein called IGF-1 in their milk. IGF-1 is a growth factor that stimulates living cells to grow, including cancer cells. Studies have shown that humans with cancer have higher levels of IGF-1. The concern is that the higher than normal levels of IGF-1 in rbST-treated cows might contribute to cancer in humans. The FDA, though, concludes that IGF-1 in milk does not promote cancer in humans due in part to it being unable to act as a growth factor after being digested.
Hormones in Meat
Another area of concern is the safety of meat from cows given synthetic hormones. These cows have shown higher than average, though still normal, levels of estrogen in their meat. Some have speculated that this additional estrogen causes early puberty in girls, which has been associated with a higher breast cancer risk. So far, evidence does not exist to answer the question of whether hormone-treated meat contributes to breast cancer compared with untreated meat. No large-scale studies have been performed to gather this data. Regarding other types of meat, hormones are not allowed to be given to pigs or chickens in the U.S.