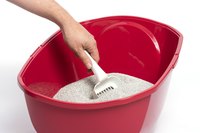 Cats can become constipated, or experience hard stools that are painful to evacuate. Constipation can be caused by dietary issues or can be a sign of an underlying illness or medical problem. Being familiar with your cat's litter box habits can keep you attuned to her overall health and help you recognize when it's time to consult a vet for a checkup. Don't ignore the signs of constipation, since they can signal a serious ailment.
Identifying Constipation
Regularly check the condition of your cat's stool when you clean the litter box. Most healthy cats have at least one bowel movement a day. Small and dry stool, bloody stool and the absence of stool are all signals of potential constipation. If your cat strains or meows when attempting to defecate, this is another sign, as is going outside of the litter box, particularly in unusual and inappropriate places.
Dietary Changes and Constipation
Cats can become constipated if you switch from one brand of a food to another, particularly if the new brand contains less fiber. Feeding dry food exclusively can also lead to constipation; wet food has more water content and therefore helps keep the bowels moving. Ensure that your cat has access to fresh, clean water at all times, as dehydration can lead to constipation.
Other Reasons for Constipation
An overweight cat is more prone to constipation, primarily because the fat cat tends to get less exercise than a fit feline. Older cats are more susceptible to constipation than younger ones. Those who excessively groom themselves and ingest a lot of hair are at risk because it can block the intestines. Meanwhile, some types of medication can cause constipation as a side effect. Discuss your cat's condition and his medications with your vet.
When to See a Vet
If your cat experiences other issues along with constipation, such as abdominal pain, excessive crying, vomiting or hiding, seek vet attention right sway. Bloody stools are another concern worth bringing to the vet's attention, as is a decrease in food and water intake. Your cat may have a bowel obstruction, abscessed anal sacs or an underlying medical condition like an infection or tumor.
Treatment Options
The cause of your cat's constipation usually can be be diagnosed through blood tests and a physical exam; an ultrasound is sometimes necessary. Your vet will recommend treatment options based on the underlying cause of your cat's constipation. Surgical intervention or manual bowel evacuation may be necessary if there is blockage or compaction. Your vet may recommend a high-fiber diet or supplement, or a stool softener. Some over-the-counter constipation treatments can be toxic to cats, so seek medical advice before attempting anything on your own.