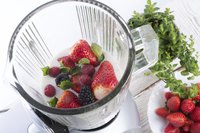 Everyone knows that fruits and veggies are good for them, but they're not exactly as tempting as doughnuts and cheeseburgers. A tall glass of fresh fruit and veggie juice can taste great, however, and using a juicer allows you to maximize both nutrition and convenience. Keep in mind that juicing typically omits some essential nutrients, so drink your juice in moderation as just one component of a balanced eating plan.
Better Health
Getting the vitamins and minerals that fruits and vegetables offer, whether in liquid or solid form, provides serious health benefits. According to the U.S. Department of Agriculture, the nutrients in fruits and veggies reduce your risk of health problems such as kidney stones, bone loss, cancer, diabetes, obesity, heart disease, high cholesterol and high blood pressure. Most Americans fall short of the government's recommendations for daily fruit and vegetable intake.
More Nutrition
Liquid calories don't fill you up as easily as calories from solid food. For that reason, you can consume more fruits and veggies in liquid form than you might be able to by eating them whole. For example, four or five oranges may provide enough fresh juice for 1 cup of liquid, which gives you four to five times the amounts of vitamins and minerals you'd get from each individual fruit. Leafy greens, like kale and spinach, yield very little juice, and a green juice can contain more greens than it's possible to eat in one sitting.
While juice contains most of the nutrients in whole fruits and veggies, one notable exception is fiber -- since juicing removes pulp and fibrous parts of fruits and veggies, you won't get as much fiber by drinking your produce.
Efficient Digestion
There is a benefit to removing fiber from fruits and veggies during the juicing process, however. Digesting liquids takes less energy than digesting solids, so juices are easier and speedier for your digestive system to handle. In addition, juicing keeps fruit and vegetable enzymes intact, while the heat from cooking can sometimes destroy them.
Customized Drinks
When you juice fruits and veggies yourself and drink the product right away, you're losing very little freshness and nutrition. Processing, as well as exposure to heat and oxygen, breaks down the nutrients in fruits and vegetables. So take advantage of the control you have in creating your own drinks, and use produce that's at its peak ripeness level.
You can also pick and choose ingredients that are good sources of the nutrients your body is able to easily absorb in liquid form, such as vitamin C and B vitamins. To get the most of those, load up your juice with leafy greens, grapefruit, oranges, papaya, kiwi, strawberries, broccoli and red bell peppers.