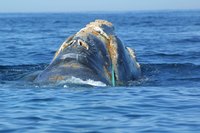 Several whale species swim the waters surrounding Florida, including orcas and humpbacks, but only the North Atlantic right whale provides predictable viewing opportunities. Right whales migrate from northern Atlantic waters in the fall, following the coastline to their only known calving areas in northeast Florida. Whale watching tours are unavailable in Florida, but it's possible to catch sight of right whales from public places along the coastline from Jacksonville to Cape Canaveral.
Identifying Right Whales
Scientists estimate fewer than 400 North Atlantic right whales remain in existence. It's a lucky day for a whale watcher when one is spotted. Because right whales are federally protected by the Endangered Species Act and the Marine Mammal Protection Act, the population is slowly on the rise. February is prime time for viewing the whales in northeast Florida. It helps to to understand their identifying features before setting out. Recognize right whales by their dark color, large white bumps on the head and the flat back lacking a dorsal fin. Adults reach lengths of up to 50 feet. Right whales tend to spend a great deal of time on the surface and swim slowly, giving whale watchers a chance for sightings despite the limited population.
Flagler Beach's Viewing Hot Spots
Waters off the coast of Gamble Rogers Memorial State Recreation Area at Flagler Beach serve as calving grounds for the endangered North Atlantic Right Whale. During winter, whale watchers gather along the beach to view the marine mammals migrating from the northeastern United States to feeding areas in these shallow waters. The best right whale viewing is from the park's dune crossovers. The City of Flagler Beach fishing pier is another hot spot for sighting the species. Don't forget binoculars.
Prime Pier Spotting Options
Daytona Beach Pier is one of the city's most recognized landmarks. Stretching more than 1,000 feet into the Atlantic, it provides a prime site for spotting right whales. Although heavily commercialized, Sunglow Pier at Daytona Beach Shores also offers an option for catching sight of the mighty mammals. In St. Augustine, St. Johns County Ocean Pier attracts whale watchers. Situated along a 4-acre beachfront park, it offers plenty of parking, picnic facilities and restrooms, allowing hopeful whale fans to make a day of it.
Celebrating Right Whales
Each November, Jacksonville marks the return of whales with the Right Whale Festival. It's a golden opportunity to meet experts from marine conservation organizations and to learn about the whales and problems threatening them. In 2013, 7,000 people participated in festival activities that included a morning beach clean-up, live music, food, fine art sales, nature photography and a 5K and 2.5K fun run. The free one-day celebration takes place rain or shine at the Seawalk Pavilion at Jacksonville Beach.